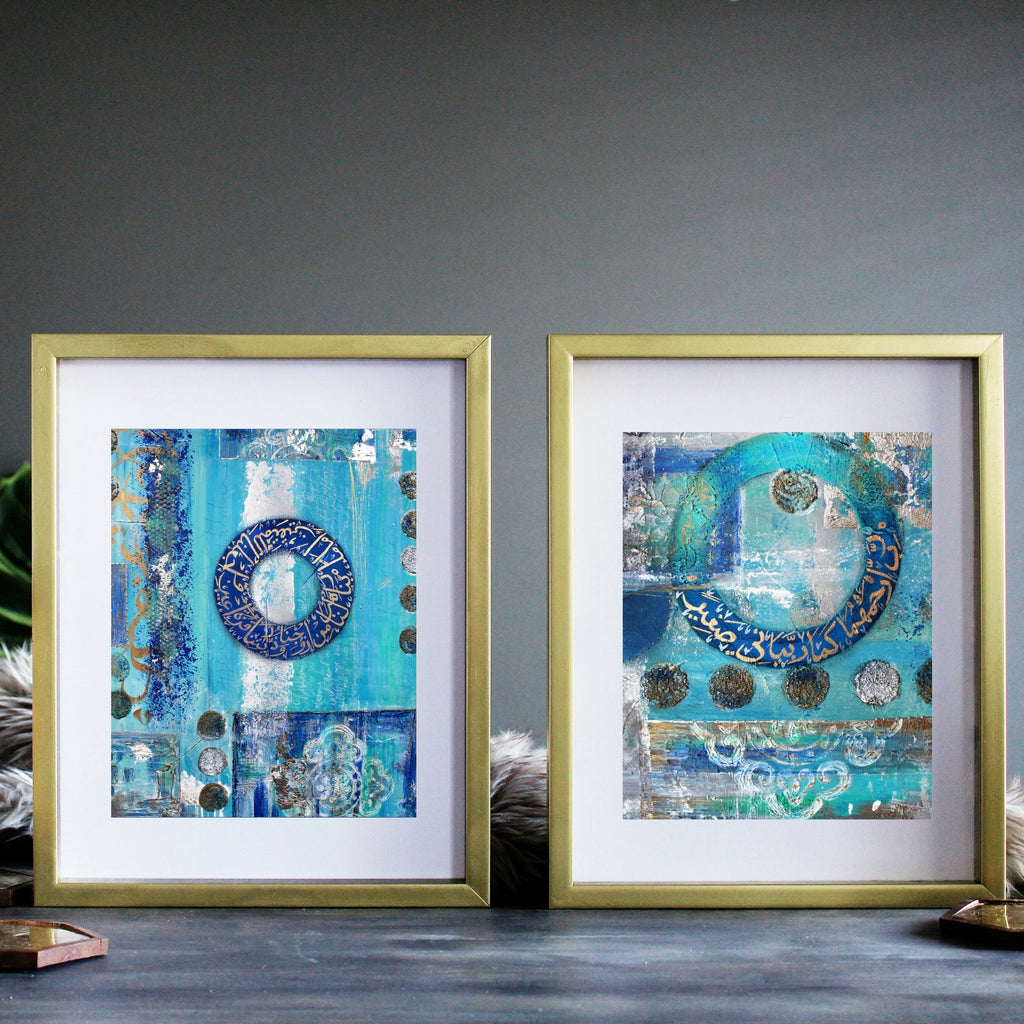 Modern Islamic Art Print - Coolness of Eyes
This pair of Islamic posters are inspired by the strongest bond we know: between a mother and her child. 
The Quranic text on the art prints are -
Ayah #1: "Our Lord! Bestow on us from our spouses & our offspring the coolness of our eyes & make us leaders of the righteous." Surah Al- Furqan 25:74
Ayah #2: "My Lord, have mercy upon them as they brought me up [when I was] small." Surah Al Isra 17:24
A fantastic art print for your Modern Muslim home decor.
The print also makes a great gift for -
Mother's Day
Nikah / Walima (Wedding)
House Warming Party
Eid and more
The Story: 
The "eyes becoming cool" is an Arab idiom. This expression equates to finding refuge from a storm. In today's world, the storm can be found inside our homes. In this powerful and beautiful dua, we are asking Allah SWT for our home to become a place of refuge. A place where our worries disappear when we come home to our spouse & children.
The strongest bond is that between a mother and her child. Remember when Musa AS's mother put her baby in the water to save him from Pharaoh? Can you imagine not knowing what's happening to your child. So imagine the feeling when she was reunited with Musa AS. Allah SWT used the same expression to describe the most indescribable feeling: coolness of the eyes. 
This painting was inspired by this indescribable feeling. The floral prints symbolize the pure bond between a mother and her child. The white streaks symbolize the modern day sand storms that we seek refuge from while the dominant blue represents tranquility and calmness. With this theme in mind, the painter included a dua for our parents as a reminder to slow down and show patience during their old age and to treasure our time with them as they may not be around for long. 
May these powerful duas become part of our daily prayer inshaAllah
Paper: Printed on quality photo paper for optimal color
What you get: The art print is stamped & packaged with a description card that states the story behind the original painting 
Framing: All prints are UNFRAMED.
NOTE:
Please refer to measurements for exact size.
All prints are sold individually without any framing.
No major editing has been done to these images. Prints are almost exactly as seen here.
All artwork is subject to copyright and any reproduction or printing of this work is against the law.
Please understand that colors shown on different monitor may vary from actual print color. We make sure colors are as accurate to what is shown on our monitor when printed.
Buy the print, frame it.. DONE!
---
Share this Product
---
More from this collection