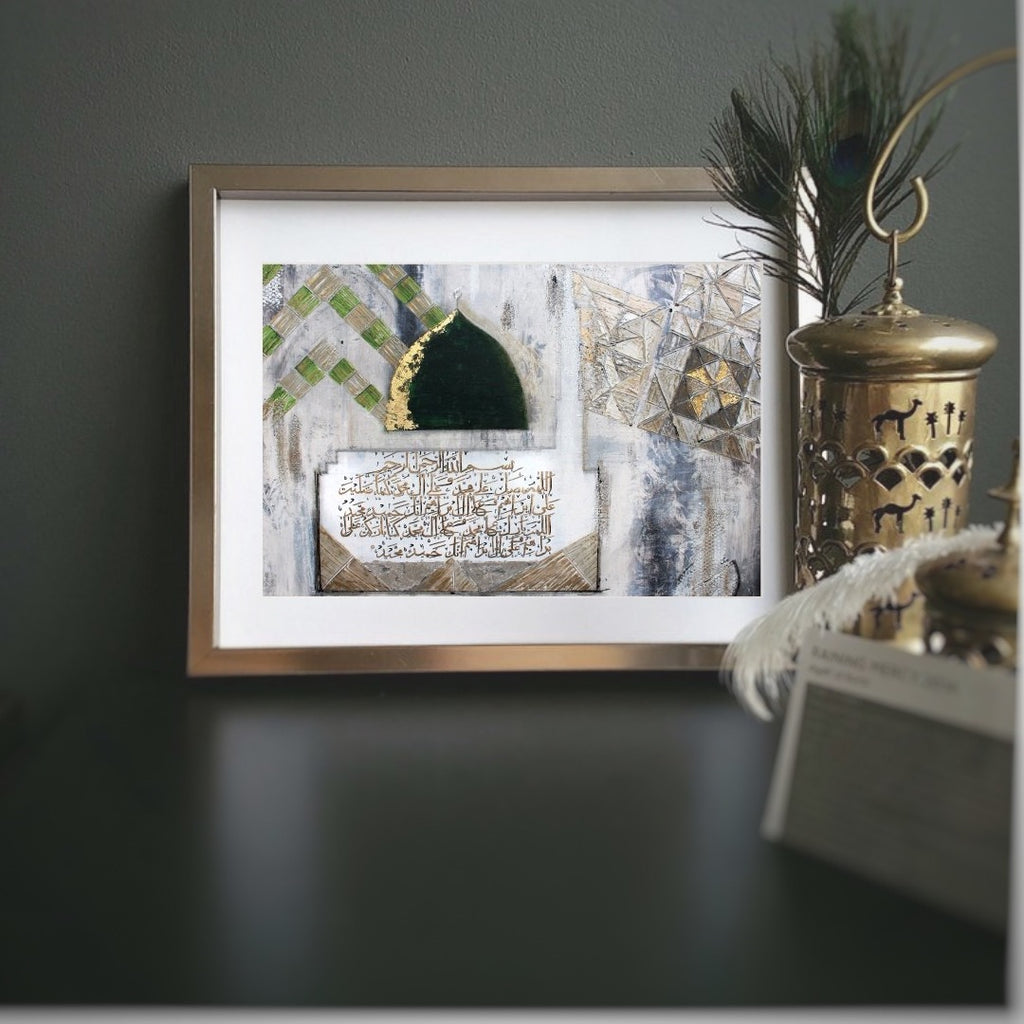 Islamic Poster - Durood
Contemporary Islamic Art print inspired by the moment where one recites Darood-E-Ibrahim when visiting the Prophet Muhammad's (PBUH) grave in Masjid-e-Nabawi.
The masjid is overflowing with souls from around the globe, yet the atmosphere is cool and calm. The green and gold interior is splendid and probably the most memorable.
A fantastic art print for your bedroom, livingroom of any room in your Muslim home.
The print also makes a great gift for -
Hajj and Umrah pilgrims returning home
House Warming Party
Birthday
Anniversary
Nikah / Walima (Wedding)
The Story:
This poster is a humble attempt to symbolize the famous pillars, green dome and umbrellas in an abstract way. The silver leaf in motion represents the cool breeze felt during Fajr in the early morning hours.  Reciting Durood is done to send Allah' mercy and blessings on the Prophet Muhammad PBUH to show our love and gratitude. The benefits are immense. It's a way for us to get high ranks in the court of Allah. Reciting the Darood raises the status of its readers.
Prophet Muhammad PBUH said, "On the day of Qiyamah the person closest to me will be the one who has sent the most Durood unto me." (Tirmidhi) "Whoever supplicates Allah to exalt for me, Allah would exalt him ten times". (Muslim)
Paper: Printed on quality photo paper for optimal color
What you get: The art print is stamped & packaged with a description card that states the story behind the original painting 
Framing: All prints are UNFRAMED.
NOTE:
Please refer to measurements for exact size.
All prints are sold individually without any framing.
No major editing has been done to these images. Prints are almost exactly as seen here.
All artwork is subject to copyright and any reproduction or printing of this work is against the law.
Please understand that colors shown on different monitor may vary from actual print color. We make sure colors are as accurate to what is shown on our monitor when printed.
Buy the print, frame it.. DONE!
---
Share this Product
---
More from this collection