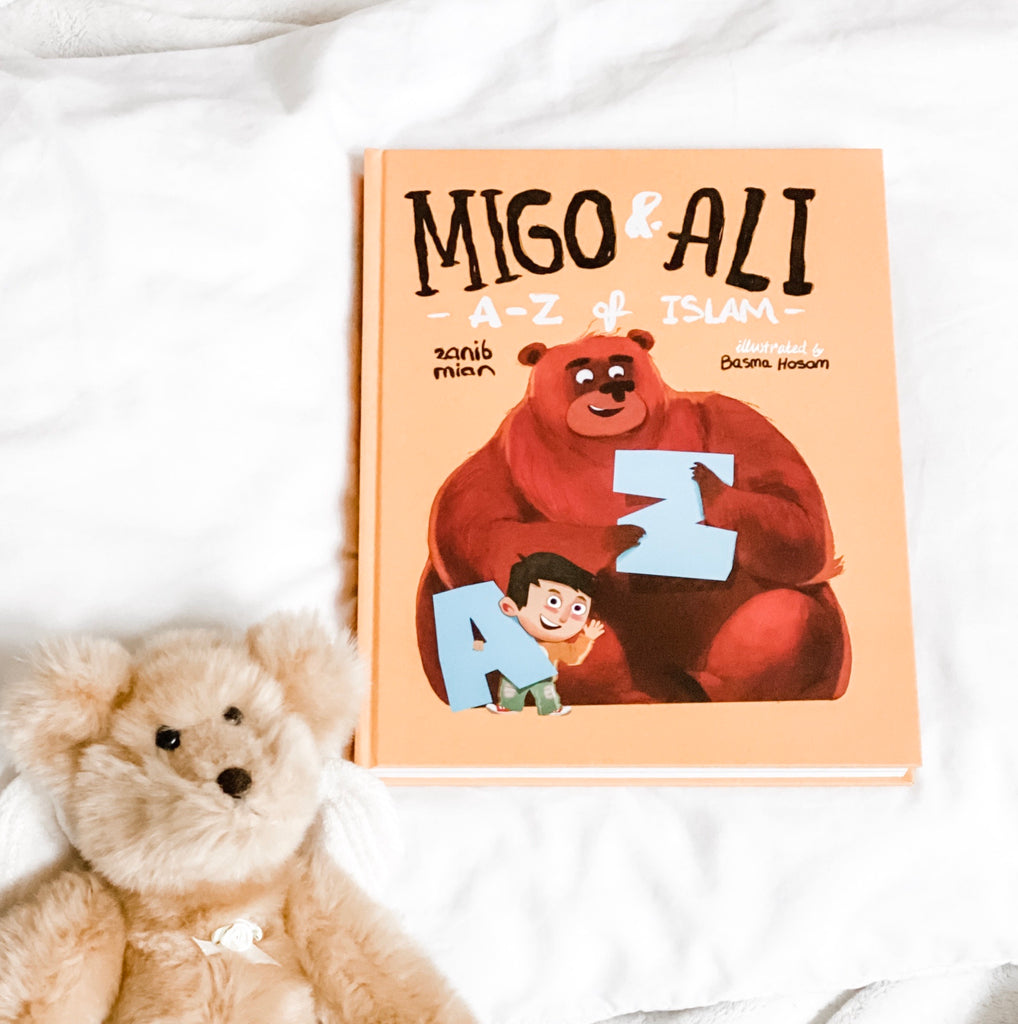 Migo and Ali: A-Z of Islam
Migo and Ali: A - Z of Islam is a charming Islamic book for children which covers 75 topics! 
Children will find Islamic words and concepts explained in simple, loving, child-friendly language. Vibrant illustrations decorate every section, and we see more of the light-hearted, humourous dialogue between Migo and Ali, which is what these characters are renowned for! 
This go-to resource is an Islamic parenting tool which you shouldn't be without
Author: Zanib Mian
Format: Hardback
Number of Pages: 300

Contents:

Adhaan
Alhamdulilah
Allah
Angels
Aqeedah
Ashura
Ayat
A'udobillah
Beard
Bismillah
Dhikr
Dua
Eid
Fard
Five pillars
Ghusl
Hadith
Hajj
Halal
Haram
Hijab
Hijra
Holy Books
Iftar
Ihram 
Ihsan
Imaan
Imam
In sha Allah
Iqama
Islamic months 
Israa and miraj
Jannah
Jazak Allah Khair
Jummah
Kaaba
Khutba
Laylatul Qadr
Madinah
MashaAllah
Masjid
Miswaak
Moon
Mu'adhin
Prayer mat
Prophets
Qibla
Qiyam
Quraish
Quran
Ramadan
Ruku
Sadaqa
Saff
Sahaba
Salaam
Salah
Shahada 
Shaytan
Subhan Allah
Suhur )see Ramadan)
Sujood
Sunnah
Surah
Tahajjud
Takbeer, Tahleel, Tahmeed and Tasbih
Talbiyah (see also Hajj/Umrah)
Taqwa
Taraweeh 
Tawakkul
Tawhid
Umrah
Wajib
Wudu
Zakat
Zamzam

 
---
Share this Product
---
More from this collection